From 8 to 10 April 2015 was held at the Palais des Congrès in Paris for developers conference, the 2015 Devoxx, formerly Javapolis, created in 2001 by the Belgian entrepreneur and java-addict Stephen Janssen. The opportunity to meet OBJETCONNECTE.COM 4 French players in the Internet of Things: Kyokita, Surycat, Angus.AI and Evikey.
Kyokita and its connected bar
Kyokita is a startup Specializing in robotics, Big Data and connected objects, and it is the R & D division Wemanity, the French specialists in Agile enterprise. They HAD Devoxx at a non-commercial prototype of a connected bar designed with … food trays, valves, pipes, Raspberry Pi and RFID tags. Through year and an NFC Application glass, the cocktail is selected (just fruit here), positioning the glass on the RFID tag and under the pipes, and the bar starts. A fun way to present Their objects of connected prototyping skills.
Surycat by Optiflows, interoperability of connected objects
We had already published an article to talk about the fundraising done by Optiflows. They were present at Devoxx Surycat to present their platform specializing in M2M communication and adapted to the interoperability of connected objects including medical community and for companies in search of automation solutions for inter-object communications.
Angus.AI, la perception humaine appliquée aux objets
Also in the corner dedicated to connected objects, we met the very young start-up Angus.AI a Cloud API for developers to "play" with the development of human perception skills applied to connected objects. They presented their solution through a lamp connected can recognize the movements, identify people and talk. Two recognized facies: a smile and an angry face, the lamp intelligently commented with a lisping voice toon "I zee zomething move"!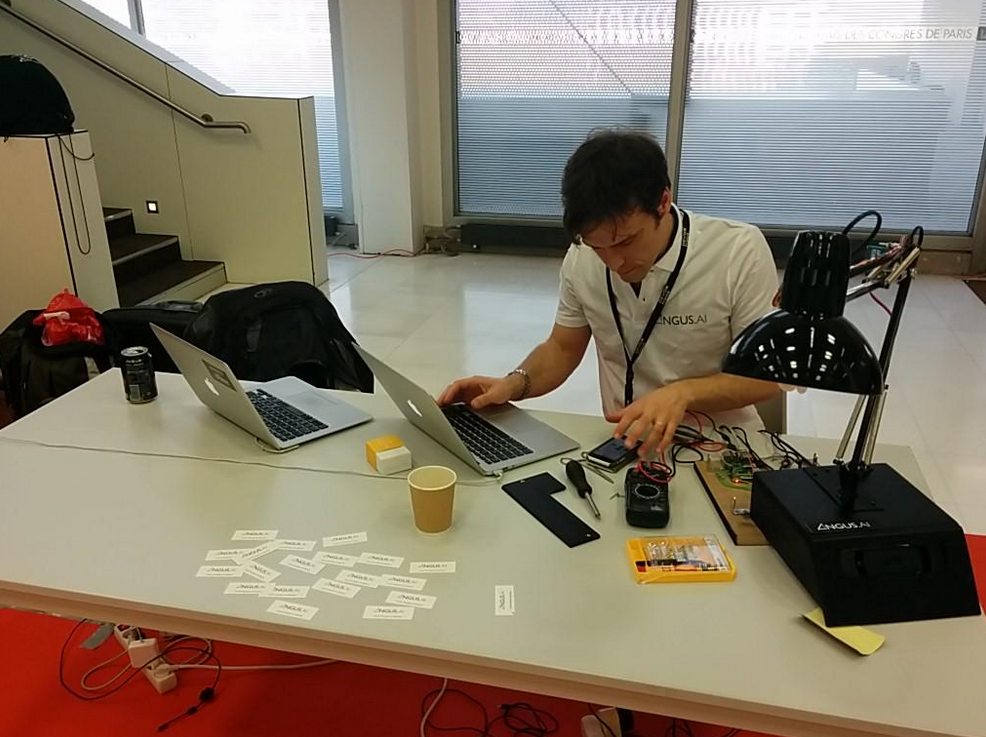 In addition to face recognition and identification of movements, the solution allows Angus.AI via an SDK (Software Development Kit) to integrate a hardware the ability to recognize the age of a person, his emotional changes, its size, its type and its movement in space.
Evikey, la clé USB coffre-fort
On the occasion of Devoxx, Freemindtronics offered to budding or experienced hackers to come try to hack the French ultra-secure USB Evikey to win a stay in the castle. Once again, no winner during the show, but the boldest who have at least tried nevertheless were able to participate in a draw